This painting by Murtazi Shvelidze,
I bought yesterday after a nice party in his Studio. We met with two Gallerists from Cologne, Christoph and Tomaslav, and with Thea Tsiklauri from Munich. The "Dshigari" a spicy ragout from heart, liver, lung and kidney was wonderful. The wine, a simple Kakhetian, too.
The painting is from 1993, this was the hard time of unrest in Tbilisi, and is 55x32 cm. I like it very much.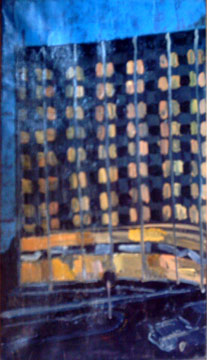 More paintings of Murtazi Shvelidze you can find at
Kaukasus-Kaleidoscope